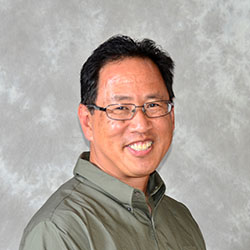 Glenn Pon
English Pastor
Glenn is happy to have returned to his hometown where he had embraced the life-changing gospel message in his youth.
While in college, besides working towards his degree in Human Resource Management, he learned about both the biblical basis and the practical importance of discipleship. Following graduation, he did missionary work, particularly in sports ministries on the San Jose State University and UCLA campuses. He graduated from Talbot Seminary (M.Div) and Dallas Theological Seminary (D.Min).
Glenn and his wife Julie have two children. He extends an open invitation to get coffee and chat about the gospel, baseball, and life.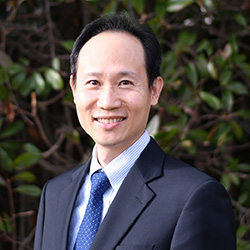 Daniel Ye
Lead Mandarin Pastor
Daniel was born in Guangdong, China. He earned his accounting degree (Tianjin University of Commerce, 1997) and his MBA (Oklahoma City University, 2000). During his MBA studies, he repented and accepted Christ as his Savior, returning soon after to China where he worked for Minsheng Bank for four years. In 2006, God called him to a church where he shepherded full-time for ten years. Daniel earned his first Master of Divinity in 2011 (China Theological Seminary) and his second Master of Divinity in 2019 (Columbia Biblical Seminary of Columbia International University). Daniel and his wife, Hannah, have one son, Samuel.
Jesus said, "What good will it be for someone to gain the whole world, yet forfeit their soul? Or what can anyone give in exchange for their soul?" (Matthew 16:26).
Daniel is eager to talk about eternal life with anyone searching for the meaning of life. Christians seeking a home church are welcome to worship and build God's house together at Chinese Grace Bible Church.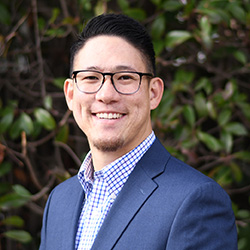 Tranwei Yu
Lead English Pastor
Tranwei serves as the English Pastor of Chinese Grace Bible Church. He grew up attending CGBC and came to faith in Jesus Christ at summer camp while in junior high.
After graduating from UCLA with a degree in math, he briefly worked as a middle school math teacher in Los Angeles before attending The Master's Seminary. During seminary, he led a college ministry at USC and served as a pastoral intern at Grace Community Church in Los Angeles. After graduating, he served as an associate pastor at Grace Community Church in Jacksonville, FL for 6 years.
He and his wife, Abijah, have three children–Josiah, Verity, and Jude.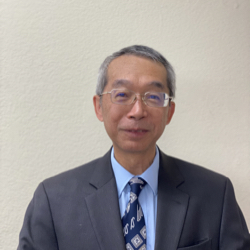 Andy Ching
Interim Cantonese Pastor
Called by Christ, Andy Ching serves as spiritual direction, hospice counselor, seminary guest lecturer, church consultant, and volunteer minister for Tien Dao Worldwide Bible Society. He was born in Shanghai, raised in Hong Kong, studied in North America, married Rosita in the Bay Area, CA. God entrusts them with the valuable gifts of Abigail (28) and Aaron (26).
He got his Doctorate in Practical Theology. God appointed him to pastor churches for the last 32 years. He loves reading, badminton, soccer, and Canton pops of the 1970-80s.