Running my fingers through my salt and pepper hair (still more pepper than salt, I pray), I glanced through the hand-held mirror to examine the contours of the fresh cut. Not bad for an amateur, I silently spoke to my pandemic-shutdown-inconvenienced self.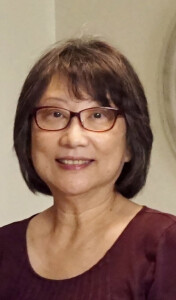 For sure, my self-inflicted hairstyle bears little resemblance to the one from the local beauty salon—by any stretch of my imagination. But I am still quite satisfied that I learned a new "skill" during this pandemic. There is also this helpful incentive for lowering my standard—like all the money I saved on professional haircuts!
In my small little world of "self," I bemoan the haircuts (or lack thereof), the loss of spontaneity to dine inside a favorite restaurant or visit with friends, the endless ZOOM meetings where half of the participants have muted their voices and frozen their profile images on their little squares, the masked faces and muffled speech encountered in the sparse in-person interactions six feet apart, the chapped hands from frequent hand-washings or its hand sanitizer alcohol equivalent.
Yet, there is this larger world I don't personally collide with, which I experience mostly as anobserver, thanks to my television set or online pages of information and misinformation. This world has more serious concerns than those in my world of self. Loss of loved ones, unemployment, hospital ICU's overrun by patients on ventilators who are trapped for months in sterile and scary surroundings, away from family. Healthcare workers stretched to the limit. Educators teaching to tired faces on a screen. Young families choking with anxiety over how to juggle work, home, and school. Churches unable to gather physically. Missionaries displaced (These last ones have touched me personally). Must I go on to state the grimly obvious?
As if adding insult to injury, my news source daily amplifies the fallouts of natural disasters, political polarization, and racial unrest, filled with images of violence and mayhem. Even if one chooses to live in ignorance, there is no real escape from the reality of what is happening to our nation and our world.
God, what are you doing?
Decades ago, I made a profession of faith in the person and work of Jesus Christ, the Son of God, the perfect God-man who entered humanity so humanity could enter the Creator-God's holy presence. The sinless being who undeservedly absorbed the wrath of a just God so I could be undeservedly forgiven. The realization of such great love and mercy has sustained me through those moments when I had been tempted to raise my fist at this God who appeared not to care while I lingered in the very depth of my sufferings. His steadfast love endures forever. His steadfast love endures forever. My anger at God melted away as the truth of this amazing forever love poured into my soul. I understood to a larger extent why the psalmist had to repeat this truth again and again to drill it into my stubborn head.
Forever. That is a very long time compared to the span we have on this temporal earth.
It would serve all of us better, especially during hard times when our world is ravaged by an invisible novel Coronavirus and other unwanted troubles, to live with an eye towards the forever and away from the temporal. How do we do that?
Good question. I'm glad you asked.
As with all of life, the answer is not blowing in the wind. The answer is found in God's all powerful, all true, all inspired timeless scripture carefully preserved for us through the ages.
God inspired the psalmist David to declare, "One thing have I asked of the LORD, that will I seek after: that I may dwell in the house of the LORD all the days of my life, to gaze upon the beauty of the LORD and to inquire in his temple." (Psalm 27:4)
God inspired the apostle Paul to remind us to set our minds on things above, not on things of the earth. (Colossians 3:2) He also explains how this perspective is possible when we grasp the vast contrast between our momentary troubles and the eternal glory. (2 Cor. 4:17)
God inspired John to foretell the future kingdom with vivid descriptions throughout the book of Revelation. It's a world where darkness will vanish and nothing is accursed, and we will see the face of One who is the light. (Rev 22:3-5)
How much easier it is to turn our gaze from present darkness to future light, when we are given a glimpse of how glorious it would be to live in that light.
David and Paul's words, "gaze upon" and "set our minds," both have to do with perspective and focus. Like those optical illusion pictures where you try to gaze at the image long enough to decipher a human figure—or something less obvious to the fleeting eye—we can train our spiritual eyes and minds to look long enough at the person of God to discover truths about God, renewing our hope. We do that by meditating on God's Word (Psalms 1:2-3). We do that through worship, not only by giving all glory to God, but by reminding our forgetful minds who this God is whom we worship. Indeed he is all-powerful, all wise, always present, all-knowing, good, compassionate, loving, merciful and forgiving. Despite all appearances, he knows what he is doing. One day he will be that benevolent king who will rule his kingdom with perfect justice and love. And we will be his willing subjects.
That, my friends, is a lot of beauty to gaze upon, even amidst ugly times of pandemic haircuts and deaths.